For my 12th birthday, mommy decided to celebrate my health with doing something challenging. I am limited on my diet now so birthday cake was out of the question anyhow so why not do something active instead of celebrating with food? (although she did give me a lot of Tigertail treats on the hike!)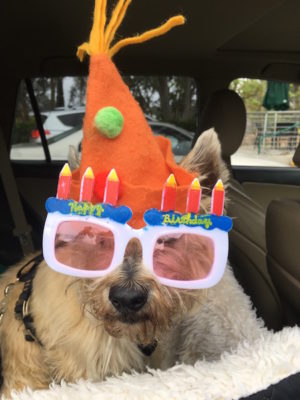 I want to preface this post by saying that this hike is NOT for the beginner hiker nor is it a great hike for dogs. You will see why……
The hike starts off on Boulder Creek Road near Julian. It is a 7 mile dirt road that you access from Pine Hills Road when leaving the 79. It is a 1 1/2 drive from our house in Scripps Ranch. The trail head was loaded with cars along the narrow road.
You start the hike by crossing a gate with a warning sign. In our opinion this sign should be placed a few spots along the hike. It gets VERY HOT out here and there are several rescues a year for both people and dogs.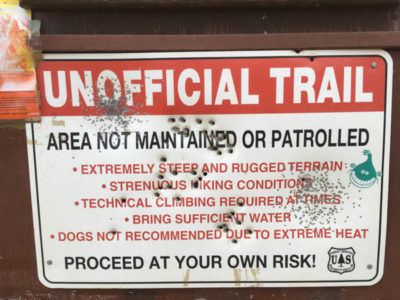 We started the hike on a nice trail that went past a little creek and through the only shade and the only flat area on the entire trail.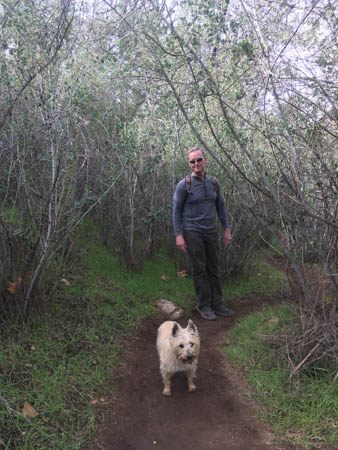 The trail quickly turned into a steep descent. Can you see the waterfalls in the background?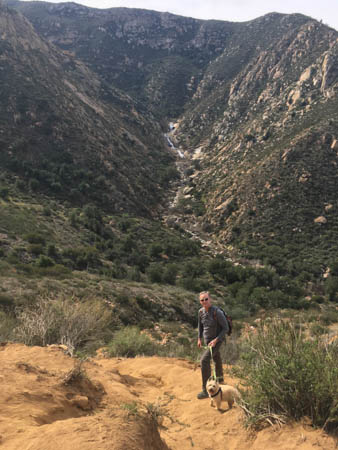 The trail got exciting when daddy had to carry me down the rope section. There was a very steep and rocky way around this that would be challenging for the less athletic dogs.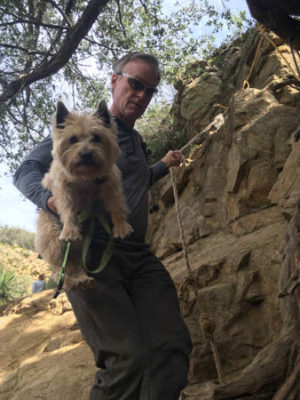 We got toward the bottom and the trail got a little confusing. We had a climb over a lot of big rocks to stay on the trail. Good thing I am little, mommy and daddy picked me up and helped me in a few spots!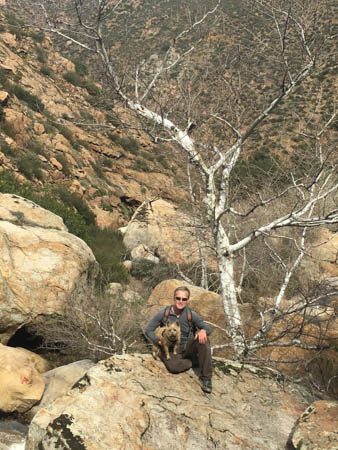 We saw the helicopter making its rounds. We didn't see them rescue anyone so hopefully they were just making sure everyone was ok. There are a lot of rescues in this area.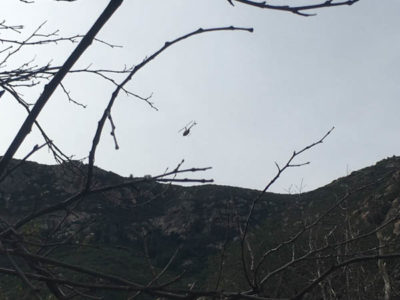 The best part of the hike was all of the water. I got to swim in a few of the small pools. Mommy kept the leash on me so I would not get washed away by the current. The water was very cool but I didn't care. I love to swim!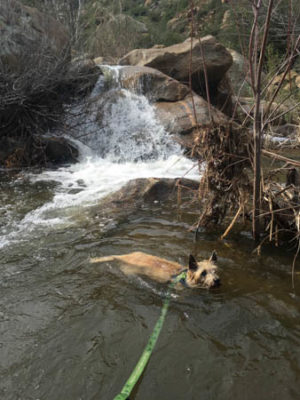 We continued rock hopping and finding the trail. The water was really flowing so a part of the trail was under water! We followed the red arrows that were painted on the rocks. They were very helpful!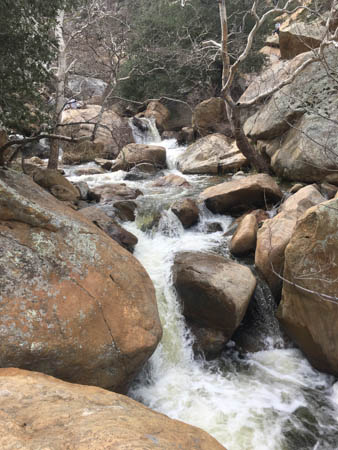 We got to the base of the second highest waterfall and hung out there and had our treats. Mommy let me swim while she held my collar and stood in the freezing water. She is such a good mommy!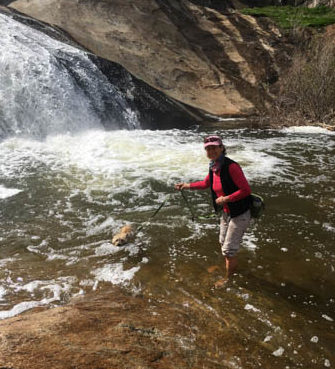 She even brought a towel for me so that I could warm up!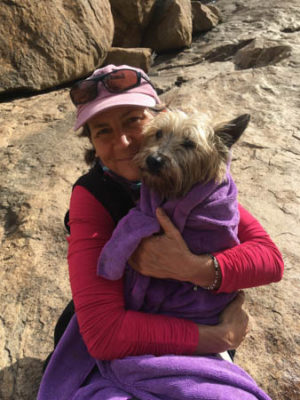 We then hiked all of the way to the top of the second falls. There were a few people swimming. Last time that we were here, people were sliding down the falls. The water was running a lot faster this time! As you can see from this photo, people were hiking up the other side. You had to cross the creek to get over there. We are not sure what the trail was like on that side.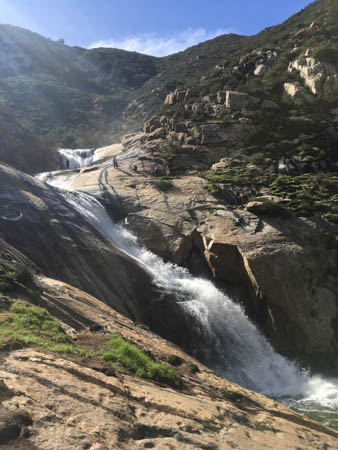 The hike back out is where people really get into trouble. They hang out at the falls, drink all of their water, get tired and then have to hike out in the heat and it is a steep ascent….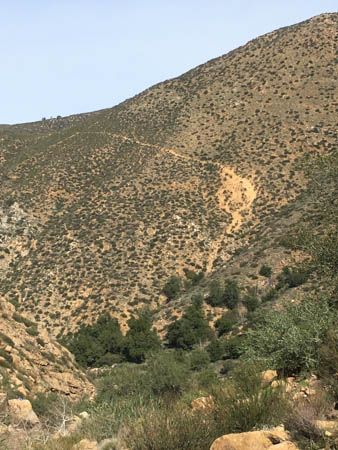 Both times that we were here, it was a cold and overcast day in February before it gets warm. The trail could be a challenge for those that are not used to hiking and rock hopping…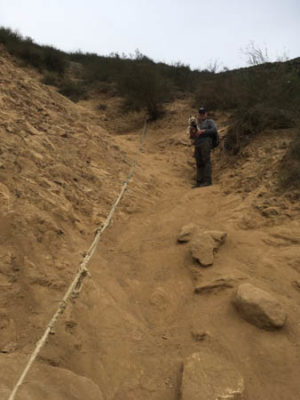 When we got to the top, we stood and enjoyed the view of where we just were and of course mommy had to get a photo of me in front of a tree. She has a thing for trees!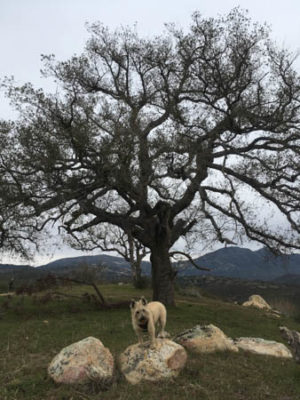 It was a 5 mile challenging hike. We were there for 4 hours. Mommy cut her leg pulling herself up a rock, she fell into the creek and she got REALLY dirty!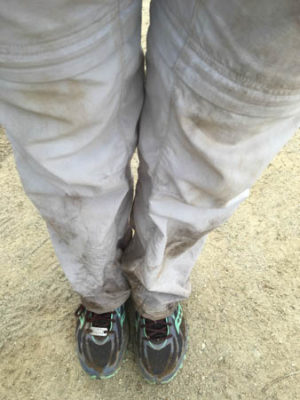 I was a tired boy and slept most of the way home!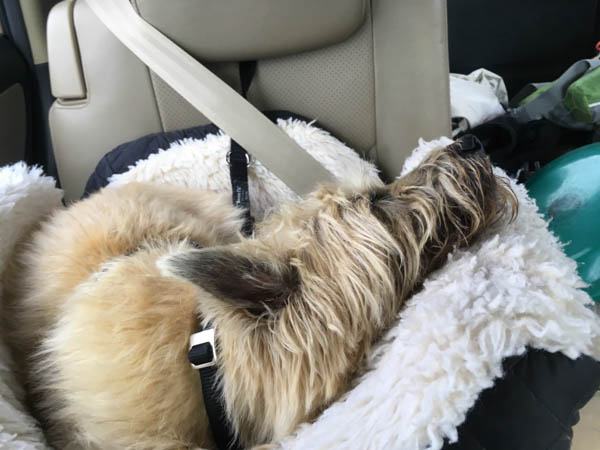 It was a great birthday! I got to do all of my favorite things. Hike with my mom and dad, swim and prove that 12 year old dogs ROCK! Happy Birthday to me!!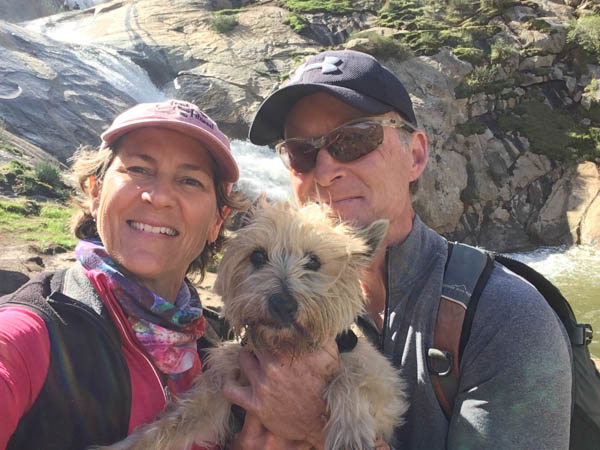 If you decide to try this hike, PLEASE go before it gets hot and remember just because it is not hot at your house, does not mean it will not be hot out there. We just don't want you or your dog to get in any danger!
Thanks for following another one of our adventures!