After the Fisherman's Camp hike and lunch, mommy and I were off on our Desert Adventure Road Trip. We are not big fans of the desert so we were wondering how it would go.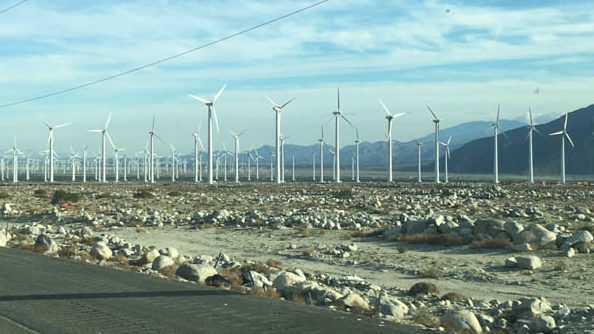 We headed to Sam's RV Park in Desert Hot Springs. Our friends from Go Pet Friendly were there.
We arrived to a large RV park which usually would be a turn off for mommy but we found a place in the back where it was not crowded.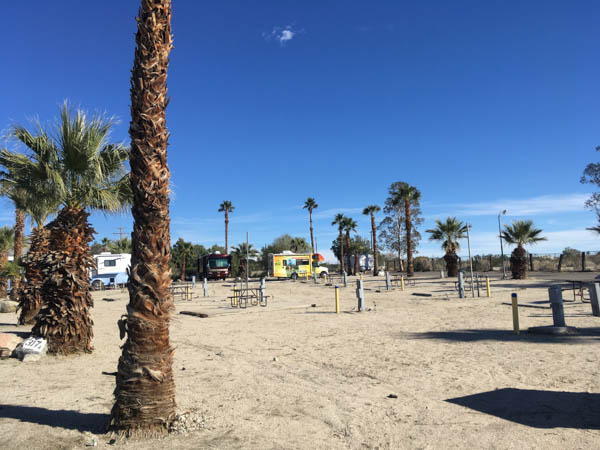 We picked our spot and mommy headed straight to the hot mineral spring tubs. Each tub was a different temperature so she tried them all out. Two of them even had jets. The best part is that they clean and drain them every single night. They were so clean and didn't smell like sulfur. I was so jealous!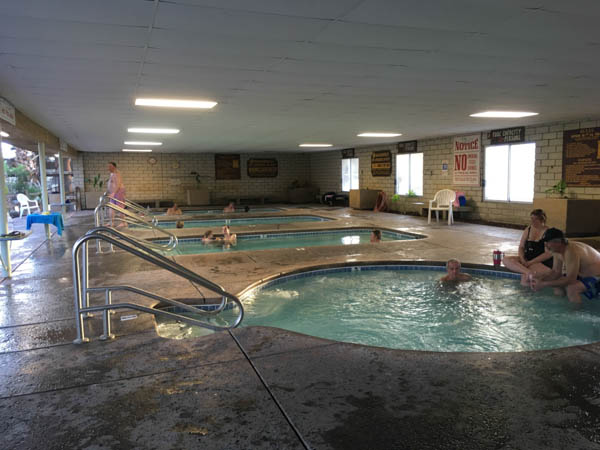 I think it is bogus that dogs aren't allowed but I guess I understand. Even though I would have been happy swimming in the duck pond!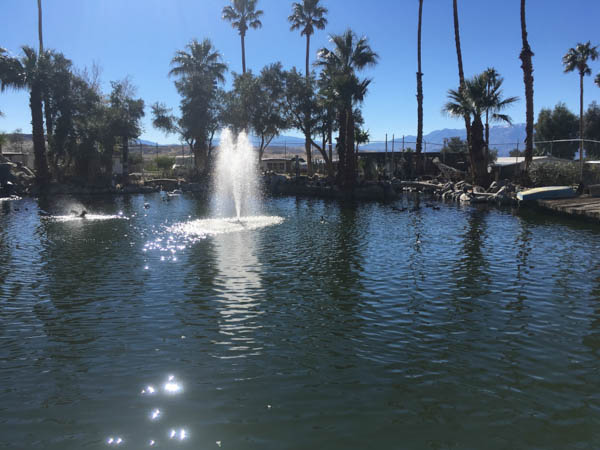 It was a relaxing night hanging out in the RV. Amy from Go Pet Friendly came down to visit. She is such a cool lady. Mommy and her were laughing so hard!
The next day, we had a relaxing morning cause it was cold! We headed out to the hike around 9:30 a.m. It wasn't too hard to find it. Turn left out of campground and the trails start on the other side of the road. We followed Nina's advice from Wheelingit and found the dirt road that lead to Flag Mountain.
When you are hiking in the desert, there are trails everywhere so you just have to look around for what you are looking for. The BIG Cairns helped too!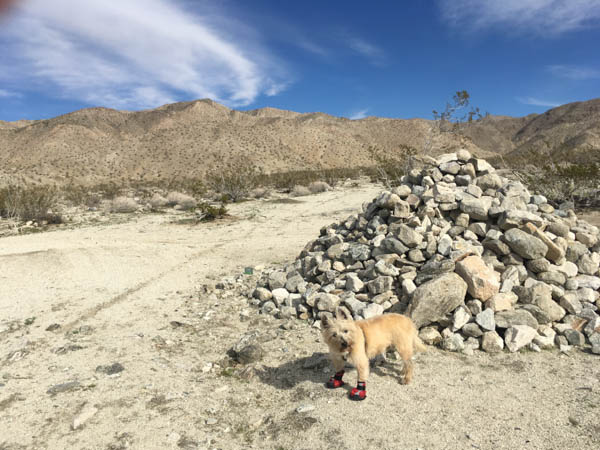 At first we only saw the lower flag so we hiked up to it.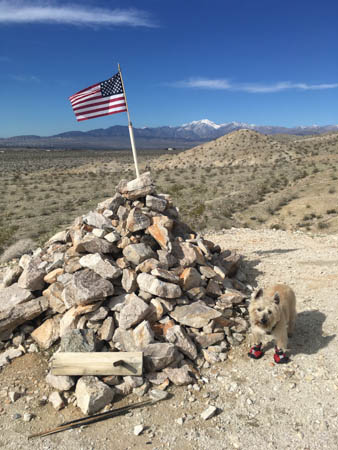 Then we saw the trail to the top of the mountain and we were on our way! Mommy put my booties on because the rocks hurt my arthritic feet. The booties really help them to feel better.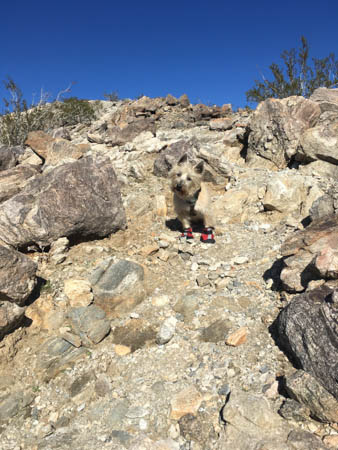 It was a pretty easy hike, it looks worse than it is.
It was very windy at the top but the views were awesome!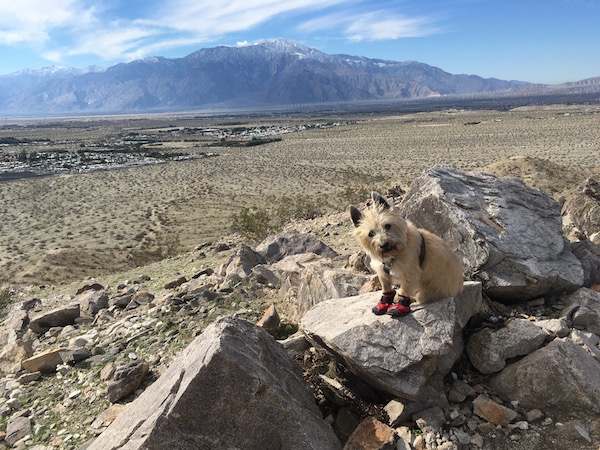 There were two different peaks with flags on them and of course we went to both of them! It was 3 miles from our campsite to the top.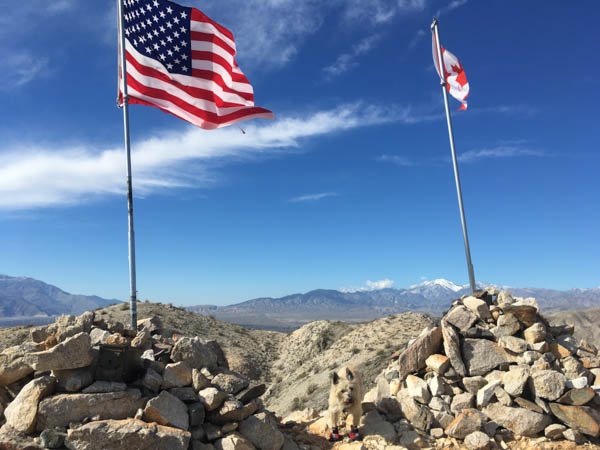 The views were great on the way down. Can you see the flags where we were hiking from?
We got back to camp and I got a yummy treat! I got to chew on a raw bone and mommy had lunch.
She then headed back down to the hot tubs and even swam a few laps in the pool. It was a beautiful day! How lucky are we? The rest of the country is getting snow and mommy was in shorts and a tank!
The next day was so BEAUTIFUL!! Our view from the campsite was so awesome. We had a hard time leaving but we had other places to go!
Mommy went down and visited Amy and the dogs. It was nice to finally meet everyone, we read about them all of the time on the Go Pet Friendly blog.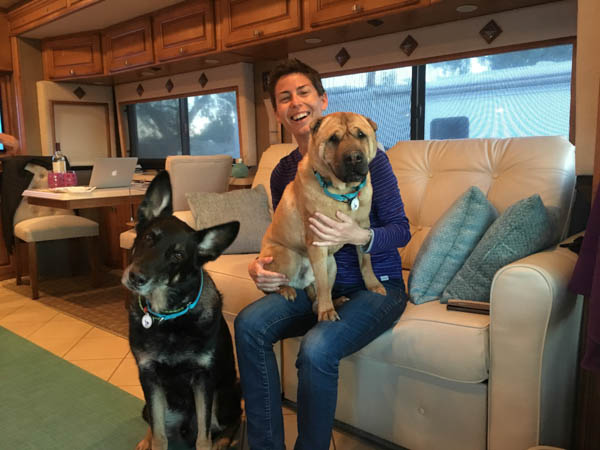 Then she had to get her money's worth so she went to the 9 a.m. water aerobics class. She only stayed for half of it and then sat in the tubs once again and then swam some laps. It was such a gorgeous day, it was hard for her to leave but I was waiting and resting in the car so she felt bad.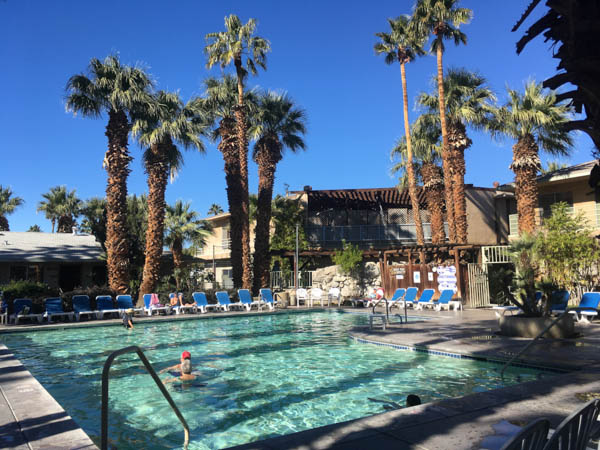 Off to our next adventure, another dog friendly hike and this one has WATER!!
We headed back west on the I10 a few miles to exit 114. It was easy to find White Water Preserve as it was on a dead end road. We got there and the road had water over it so of course we had to stop so I could play in the water.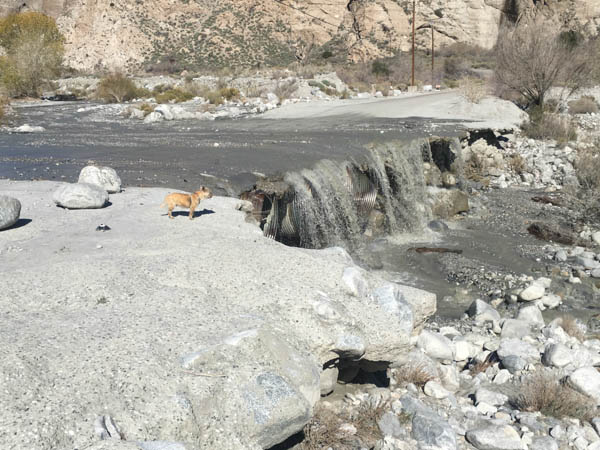 Mommy even made a video of it because she was so happy that I had my enthusiasm back, even if the water is very shallow and muddy, I love to play in it!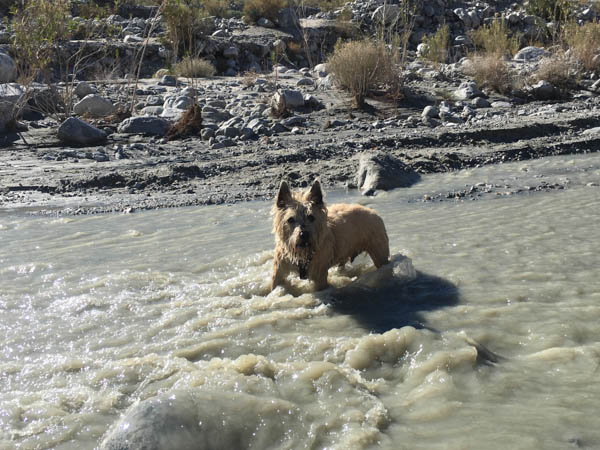 We headed out on the hike but was confused so our 3.5 mile hike ended up being a 5 mile hike. If you go, leave from the visitor center, not the parking lot like we originally did, it is easier to find the trail that way.
We had to cross the river again which I didn't mind. We then headed UP the hill. Mommy was excited that we got to hike a part of the PCT. She has hiked parts of it all over the place!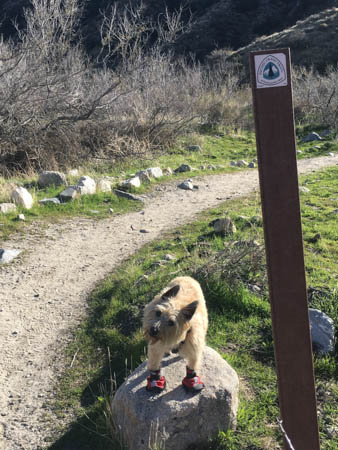 The switchbacks went up to the top of the mountain. The views were incredible.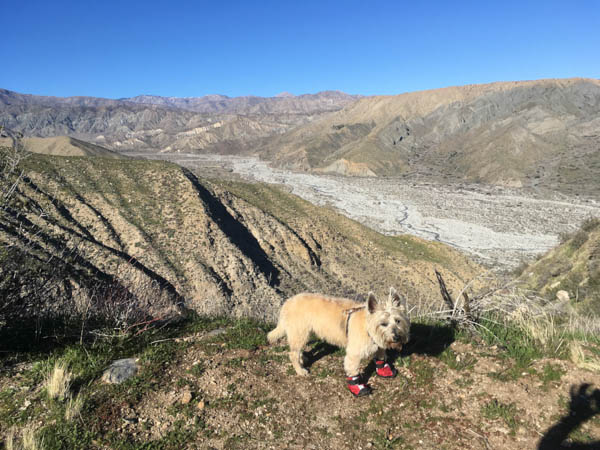 There was even green grass at the top!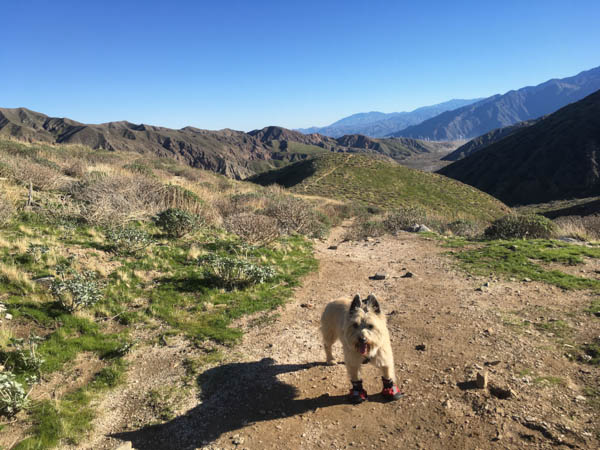 The loop brought us back down on the road right before the river crossing that we came in on. We then headed back on the trail that we started on in the first place when we were confused.
It was a really cool hike and the best part is that I got to play in the water!
Mommy headed into the visitor center to find out where we could camp for free tonight. After spending $55. A night at Sam's she wanted to make up for it with some boondocking. Sammy told her about a cool place called "Section 6" off of Onaga Road in the town of Joshua Tree.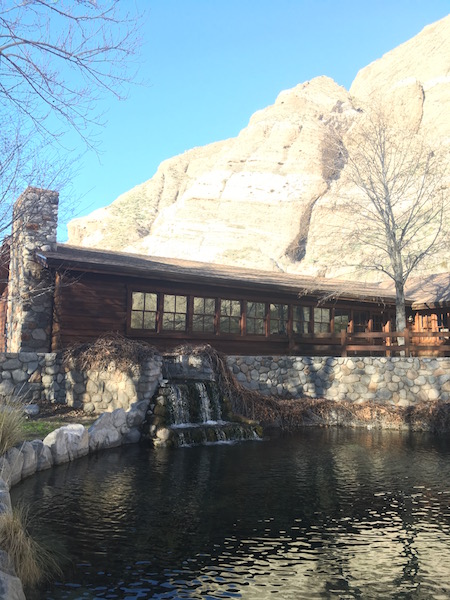 We headed up the 62 and we were surprised what a big town was up there! Yucca Vallley had everything! Even a Starbucks so mommy had to stop to get a little work done with their internet.
By the time that we headed out to Onaga Road, it was dark and we couldn't find it so we ended up spending the night in Sammy's driveway! It was perfect! Mommy cracks me up sometimes! I never know what we are going to end up doing!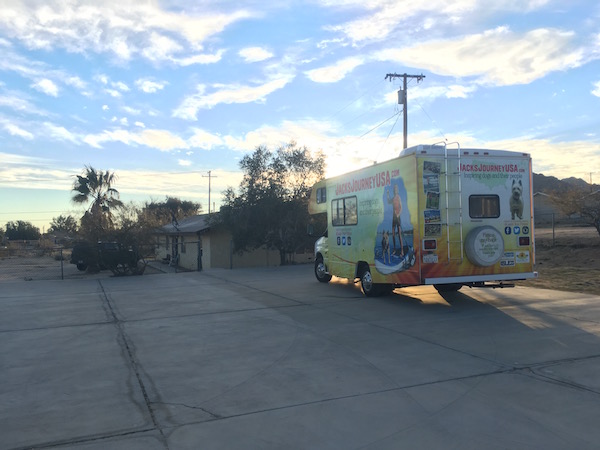 Tomorrow we head into Joshua Tree so stay tuned! The desert isn't that bad after all!