Our first few days in the desert were packed full of fun! It was so much fun hiking on some new trails. You can read all about them HERE. We woke up in the Ranger's driveway and it was COLD! As usual, I woke mommy up at 5:30 a.m. because I was hungry and had to pee. It was only 39 degrees in the RV! We had our breakfast and warmed up a little with our Mr. Buddy propane heater! So happy that we had that with us! I went back to sleep after I ate! It was too cold to start my day!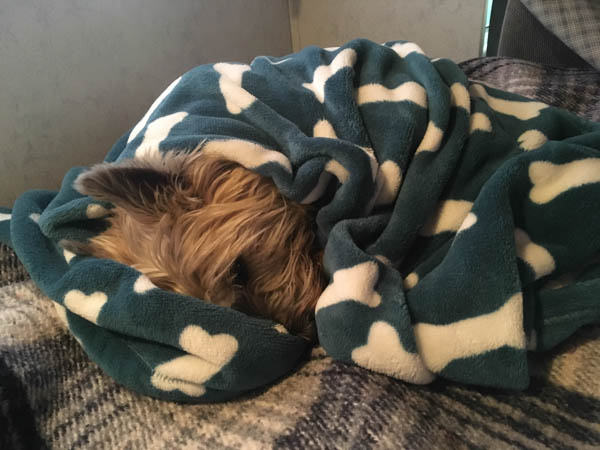 Mommy bundled up and away we went to Joshua tree National Park!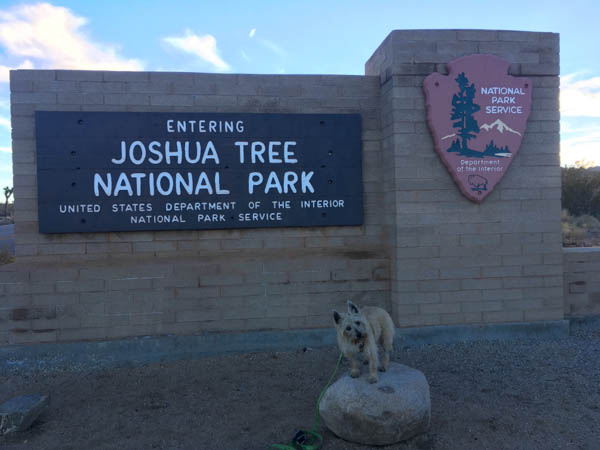 We headed in the West Entrance which seems to be the best way to go since all of the action is up there. We drove down to the Dam and looked for wildlife and mommy had her breakfast and then we headed to Hidden Valley where all of the climbers camp. It was fun doing a little rock climbing with mommy!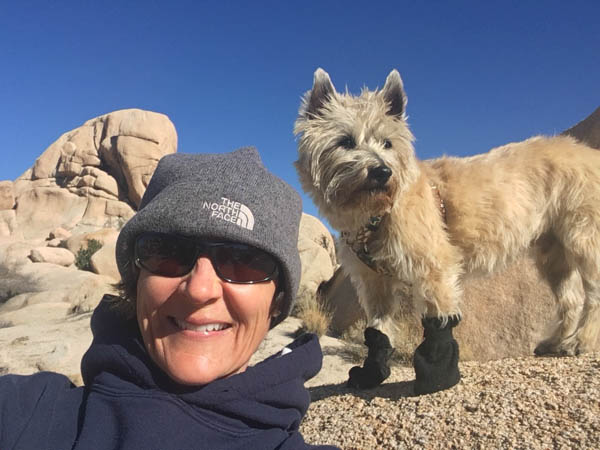 Dogs are NOT allowed on the trails in Joshua tree ( it is a National Park ) so we just climbed on a few rocks and chatted with the rock climbers.
They have really cool trees in the north west part of the park. They are everywhere!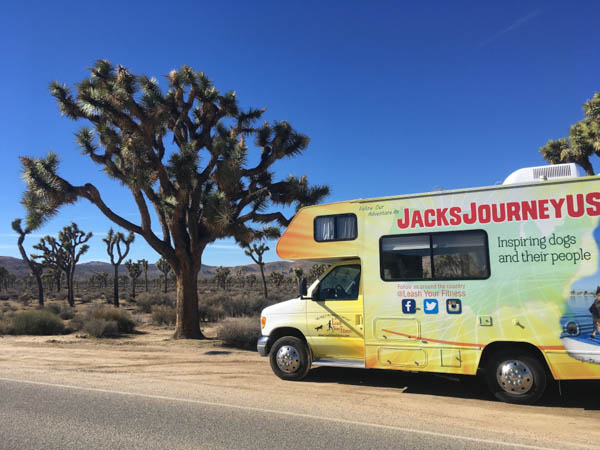 We exited to the south and the trees disappear and cactus appear. I didn't want any part of those!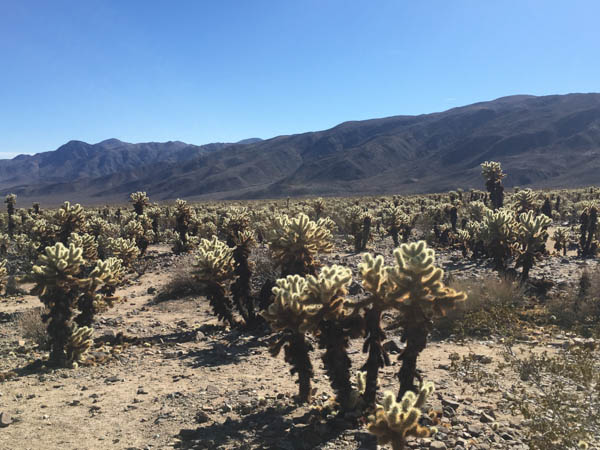 We spent a few hours in the park and then headed to the Salton Sea where we spent the night at a State Park on the beach. First mommy takes me to trails where I can't hike and then she takes me to a GIANT lake where I can't swim! What did I do to make her mad? The Salton Sea is actually pretty gross. There are dead fish all over the beach so it is not a fun place to walk BUT the views were nice and it didn't smell so we were ok with it! Plus, it was only $10. to camp!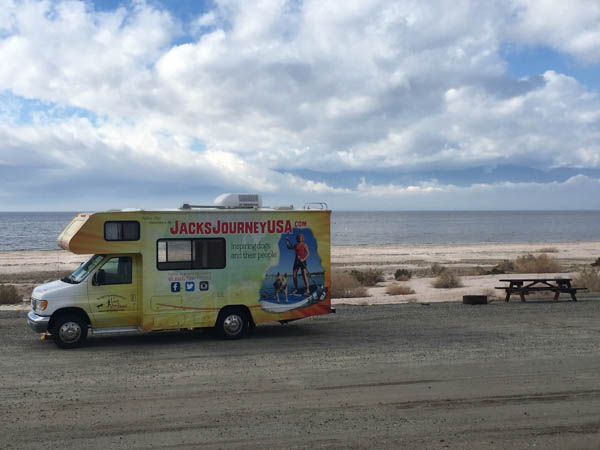 It was ok. I got to hang out with mommy and we saw a beautiful rainbow that reminded us of Grandma.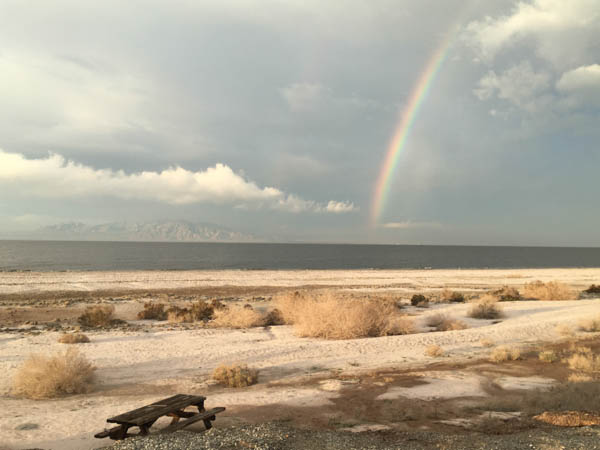 When we left there the adventure really began! Mommy took me to a GIANT homeless camp called Slab City.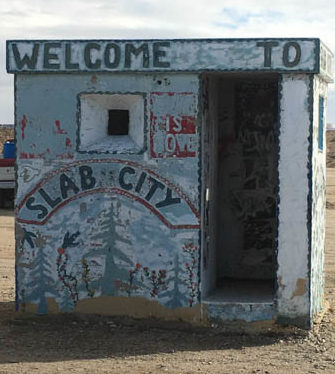 There was a mountain there that was painted by a man in the 1990's. Salvation Mountain was named a National Treasure in the Congressional Record of the United States!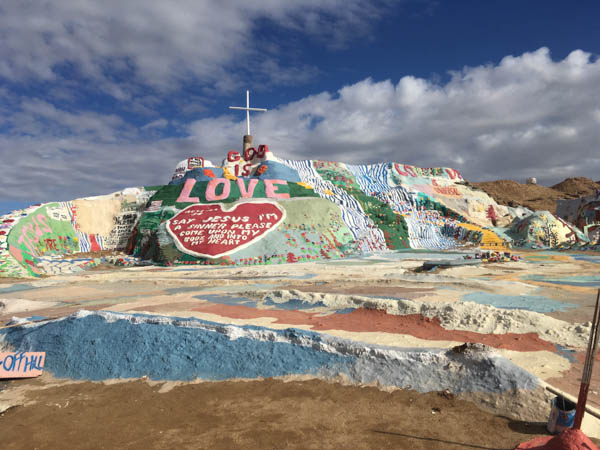 We drove down a dirt road and there were really cool water tanks with beautiful paintings on them that were done by a famous artist. People were living in the water tanks. ( you can see their "porch" around the back )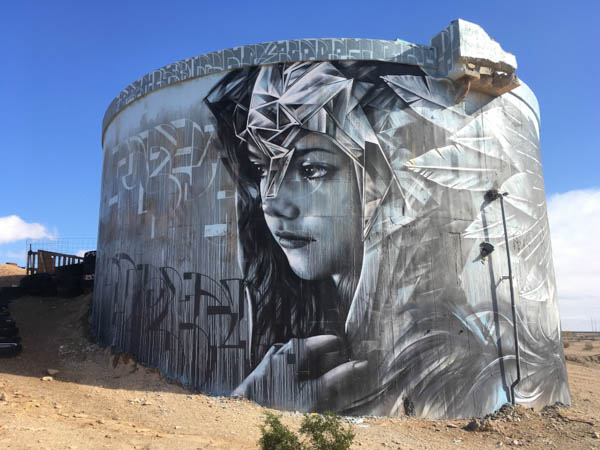 Slab City was started in 1965 when a bunch of people got kicked out of their homeless camp in Mecca, CA. They did not have anywhere to go so they began the migration to the deserted military slabs. This camp is on one of the slabs….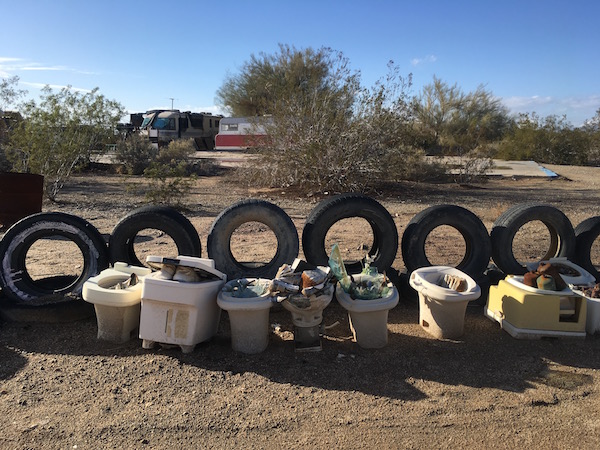 I am not sure how many people reside there now but I would estimate over 1,000. There are dirt roads, trailers, tents, water tanks, sheds, and all kinds of homemade structures that people live in.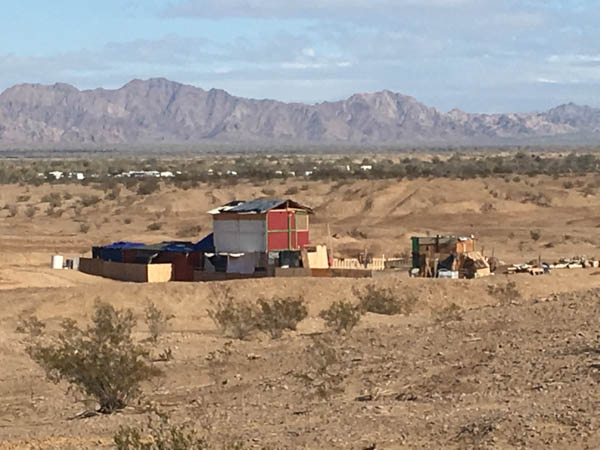 There is no running water, electricity or sewer. Many live off the barter system or they get government assistance. We met a family that moved there in October from Oregon when their house burnt down. They didn't have any money and didn't have anyplace to go so they moved here.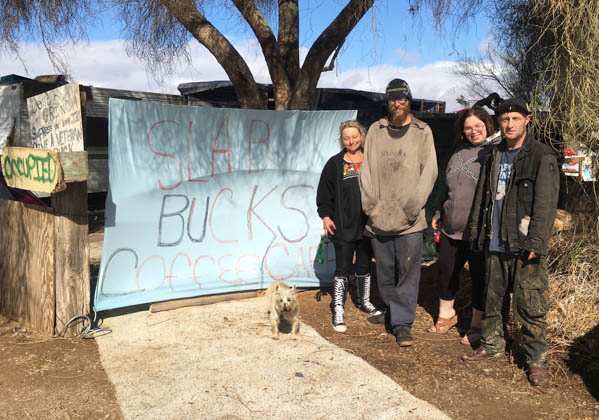 Julie is now running the coffee camp and being a taxi to people when they have to go to the nearby town of Niland to get groceries.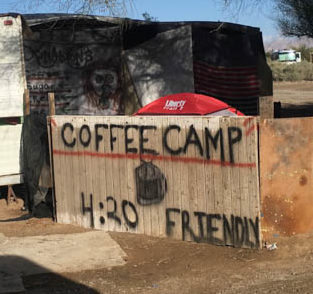 It was a very interesting place, with a lot of "artwork" that is made out of a lot of trash.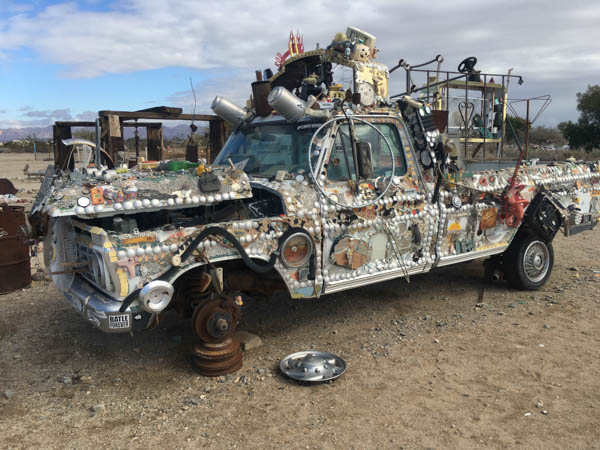 The trash that they don't use for art gets burned or thrown on the ground.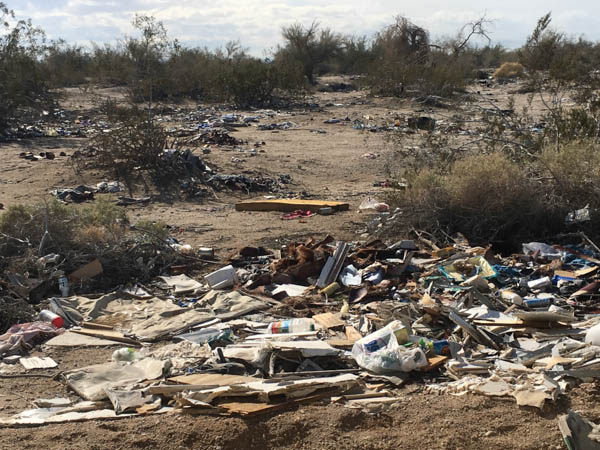 They even had a hostel, library, internet cafe (not sure how that worked), pub and Oasis club.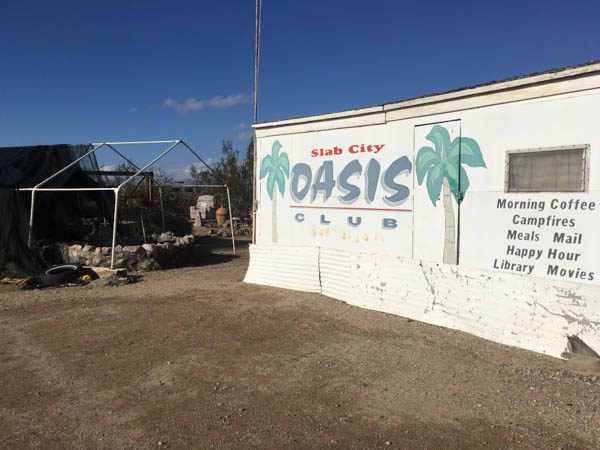 The residents here live off of the grid and seem to really love it. It works for them. If you are interested in moving there, we found this place for rent!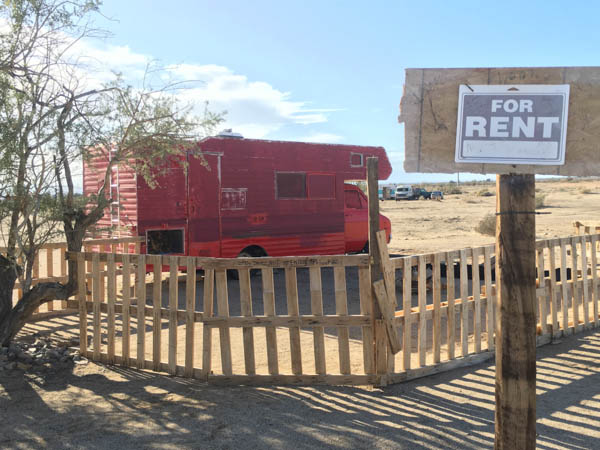 Or you can take your tent or trailer and go camp for free! There were some nice trailers there complete with solar and windmills for power!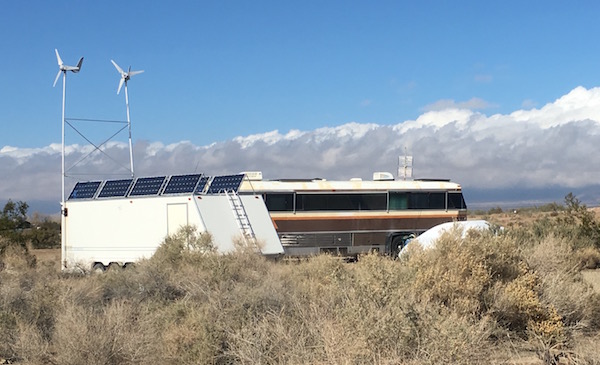 We left there and headed on the long boring roads to Borrego Springs to see our friend and spend the night.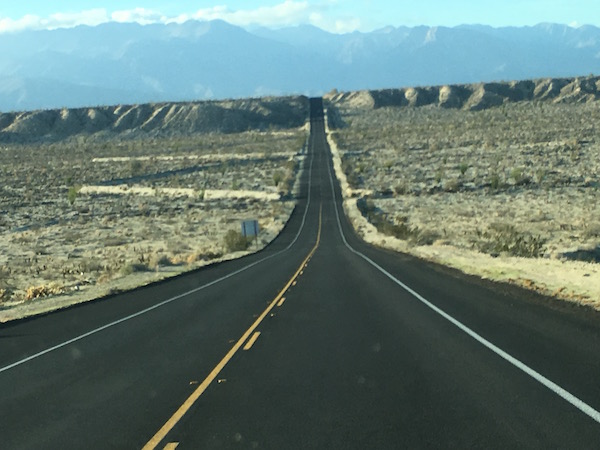 It was a super fun time in the desert. We found some cool hikes, met some awesome people and mommy got to enjoy the wonderful mineral tubs. ( you can read about that HERE )
We hope that our experience inspires you to check it out. If you go, PLEASE go in the winter or early spring because it gets REALLY hot out there and there is no shade and us dogs do not do well in the heat!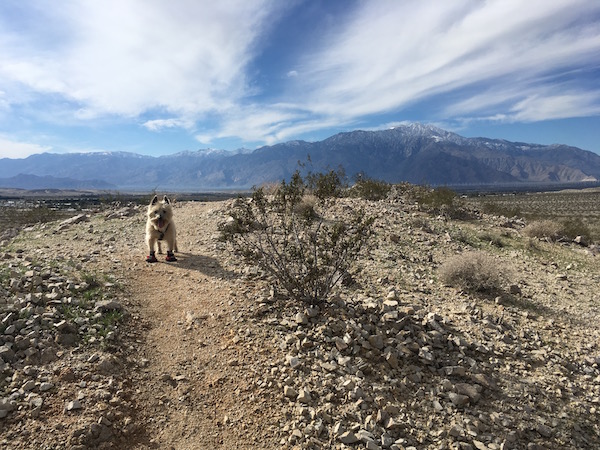 Have fun!