Fitness Instructors: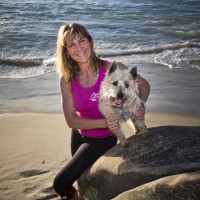 Dawn Celapino has 18 years experience in the Personal Training arena. She has worked with both men and women from 20–75 years of age.  Her experience includes everything from weight loss, posture, core strength, cardiovascular, flexibility and balance training.  She has taught yoga, kickboxing, boot camp & sculpting classes in corporate, outdoor & residential settings.
She founded Leash Your Fitness in 2009 when she saw a need for people to have fun and active things to do with their dog. The business has evolved from one class a week to classes everyday and other outdoor adventures.   She has spoke  numerous times to groups on safe hiking with your dog and how to include other fun activities with your dog.  She has also set a World Record for teaching the largest Dog Yoga Class with more than 255 dogs.  Because of her success, she has designed online programs so other trainers around the country can start their own dog fitness classes
Dawn enjoys anything outside!  She loves to run, hike, mountain & road bike, kayak, swim, surf, & yoga.  As long as Jack is with her and she is outside,  she is happy.
Certifications:  ACE certified Group and Personal trainer, CPR/AED, Pet CPR/ First Aid, Wilderness First Aid.
Education: A.A. degree in Radiography, B.S. degree in Kinesiology.
Other:  Additional certification classes in posture, gait, muscle balancing and nutrition. Has worked with people with a number of disabilities. She is part of the Todd Durkin Mastermind Group and the Women in the Pet Industry Network group.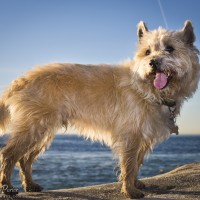 Jack is a Cairn Terrier that does not like to be left behind.  He goes just about everywhere with Dawn or else he teaches her a lesson by chewing up her slippers!!  He likes showing off how fast he can run (has been clocked at 21 mph), he loves to swim, surf, dock dive, hike, get dirty and of course chase the ball, as long as he is with his mommy, he is a happy boy!!  He is a member of the SO Cal Surf Dogs and he has won numerous medals dock diving & surfing. He also does numerous tricks if he knows he will get a tasty treat for performing!!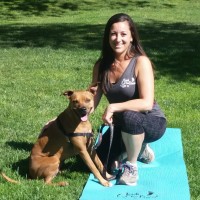 Naomi Hillery has a passion for fitness and especially running.  She has run 10 half marathons, numerous 5ks and 10ks, and trail relays.  She believes in creating encouraging and positive fitness environments for people of all ages and abilities.  She loves researching fun new exercises or classes to try, finding healthy recipes to cook, and convincing all of her friends to do races with her!
Naomi's dog, Ali, loves going for runs, chasing her tennis ball, swimming at dog beach, or doing anything outdoors.  Combining her enthusiasm for living a healthy lifestyle with spending time with Ali through Leash Your Fitness has been a dream-come-true!  Naomi also works for a health research center as a project and data manager and volunteers with Furry Foster.
Credentials: Master of Public Health (MPH) with a focus in epidemiology
Certifications: ACE Group Trainer & Personal Trainer, CPR/AED, Pet CPR/ First Aid
Experience: 1 year in Group Fitness Training experience with Leash Your Fitness, coaching the LYF run group to advance from 5k's to trail relays, half marathons and adventure races.
Crystal Nelson's  career with animals started in 1976 working at Puppy World.  She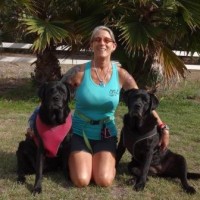 then worked in the veterinary field as a receptionist and technician for over twenty years.  She is currently working for the City of San Diego's Park & Recreation Dept. taking care of the parks and formal gardens where she plans to retire soon.  In 2012, Crystal took her first run class with Leash Your Fitness and then ran her first 5k with her dog, Remi and the Leash Your Fitness team the same year!  Crystal enjoys the Leash Your Fitness family thoroughly and in 2013 decided to go back to school and take the Grossmont College's Fitness Specialist Program so she could start classes in East County. Being outdoors and active is what Crystal enjoys most and the fact that she can include her girls, Remi and Jade, makes it even better!
Credentials:  Certificate Horticulture
Certified:  Grossmont College Fitness Specialist Program, CPR/ AED, Pet First Aid