Hi, friends! I'm Bark Ruffalo, an old friend of Jack's and a guest blogger from Rover.com. Jack is taking the week off so he asked me to write to y'all today about some of my favorite ways to stay active. I've learned a thing or two about a thing or two in my 14 trips around the sun, so hopefully I can inspire you…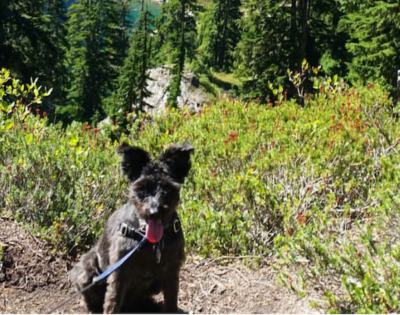 MOVE IT OR LOSE IT
Dogs of all ages need daily movement to stay healthy. Sedentary dogs lose muscle mass just like humans, so if we don't move it we will literally lose it! Walks might be a little slower or shorter, but they're just as necessary as when I was a pup. Bring some water and let me rest when I need to and we'll be just fine. Kita and Solana are both 15 and they went hiking with the Leash Your Fitness group!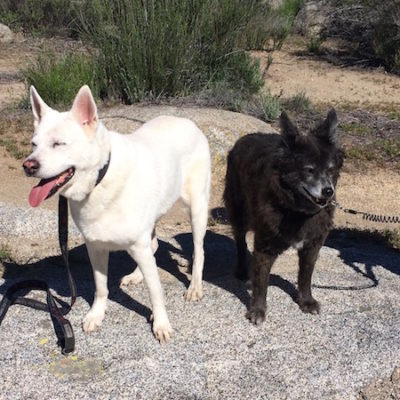 LET'S GO SWIMMING!
For older dogs with arthritic or just plain tired joints, swimming is a great way to get our movement in. The water takes the weight off, while also creating muscle-strengthening resistance for me to work against. Look for a canine hydrotherapy facility in your area, or find a dog-friendly beach or pool and jump in!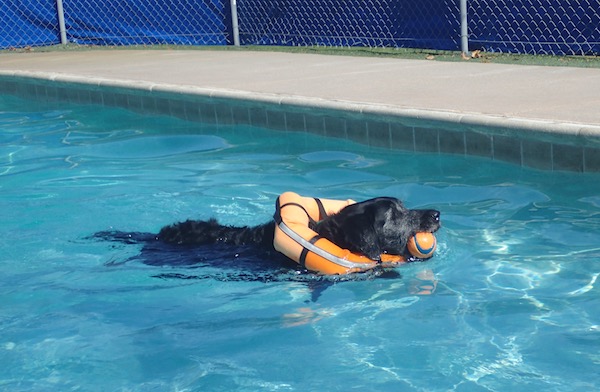 HIDE AND SEEK
A fun game to play with your senior dog is hide and seek. Hide his/ her favorite toy around the house or at the park and have Fido go find it. This will mentally and physically stimulate him/ her. It is a fun game to play. Jack plays this when his mommy goes to work. She hides treats all over the house to give him something to do for a few minutes while she leaves.
JUST ROLL WITH IT
For an aging fetch enthusiast, joint pain may limit their ability to jump after or run for a ball. So roll the ball on the ground! Speaking of rolling, some pet owners bring strollers along when they take their older dog out so they can pop them in and roll them home if they get too tired to walk. Another option if your dog is having problems walking is getting them a "wheel" chair like Aurora has….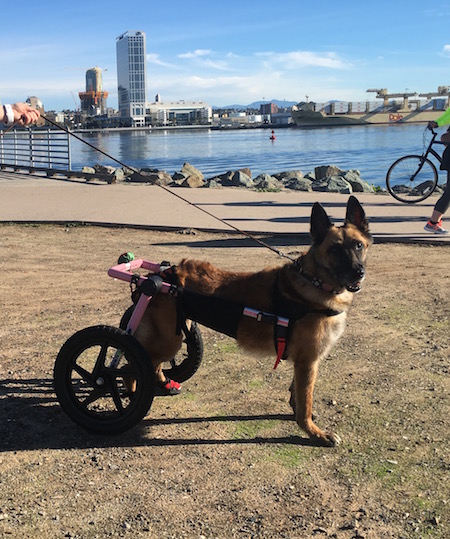 BALANCE
Balance exercises are great to do to strengthen the core. I know that my friend, Jack does them daily to keep his legs and core strong so he can go on the Stand Up Paddleboard with his mom. This is important especially if your dogs are on prednisone for anything as it weakens the hind legs. You can get a Fit Paws ball or bone or just have your dog stand on big pillows!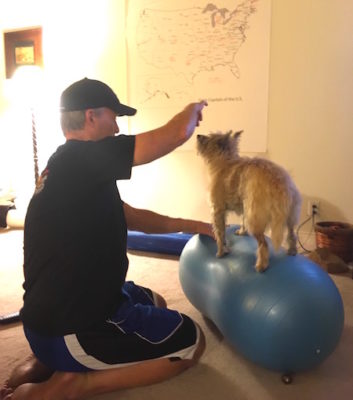 Dog Yoga
Another fun thing to do with your older dog is Dog Yoga. Just having your dog around with you while you do your daily poses is a great way to bond with Fido. Your older dog will love it, especially Savasana!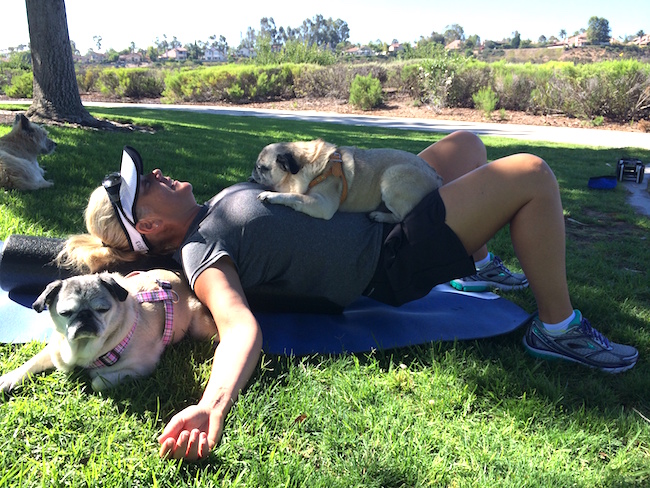 The key to staying active as you age, dog or human, is to tailor your exercise routines to your body's needs so that you can keep moving every day. I can't do all the things I did as a fresh young pupper, but my human assures me that she has slowed down some over the years, too. And it's okay! We keep each other feeling young by trying new activities together.
When she's a little sluggish, I'm right there with my leash and a wagging tail. I want my human to live a happy, long, healthy life, and she wants the same for me. We're family, and families take care of each other.
How about you? Do you have an active senior pup? We would love to hear what you do to stay fit!