It all started with a hike in Solvang, CA,  mommy and I were camping there with daddy who was doing a century bike race.  While daddy was out riding his bike, mommy and I went hiking.  We had never been on the trail before and we had to figure out how to get to it. It was down a long dirt road.  We started the hike not knowing what to expect.  It was a nice hike and a good workout.
We got to the top and it was AMAZING!! One of the prettiest views that we have seen on our many hikes.  Mommy was so excited that she immediately took a video and shared it on our Leash Your Fitness Facebook page so others could enjoy it with us! (She does that quite often when we are out having fun!)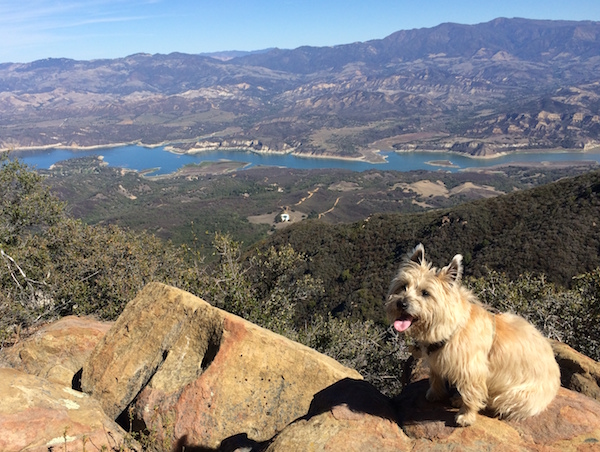 We decided to sit at the top of the mountain and cool off and have a few snacks and THAT is when it happened.  Mommy said to me, it would be fun to get a RV and travel the country and do this all over and share our experiences with others!  That was on March 8, 2014. It is now a year later, and we have our RV and we are heading out in 2 weeks to travel the country to spread the word that "Getting Fit with your Dog is Cool"!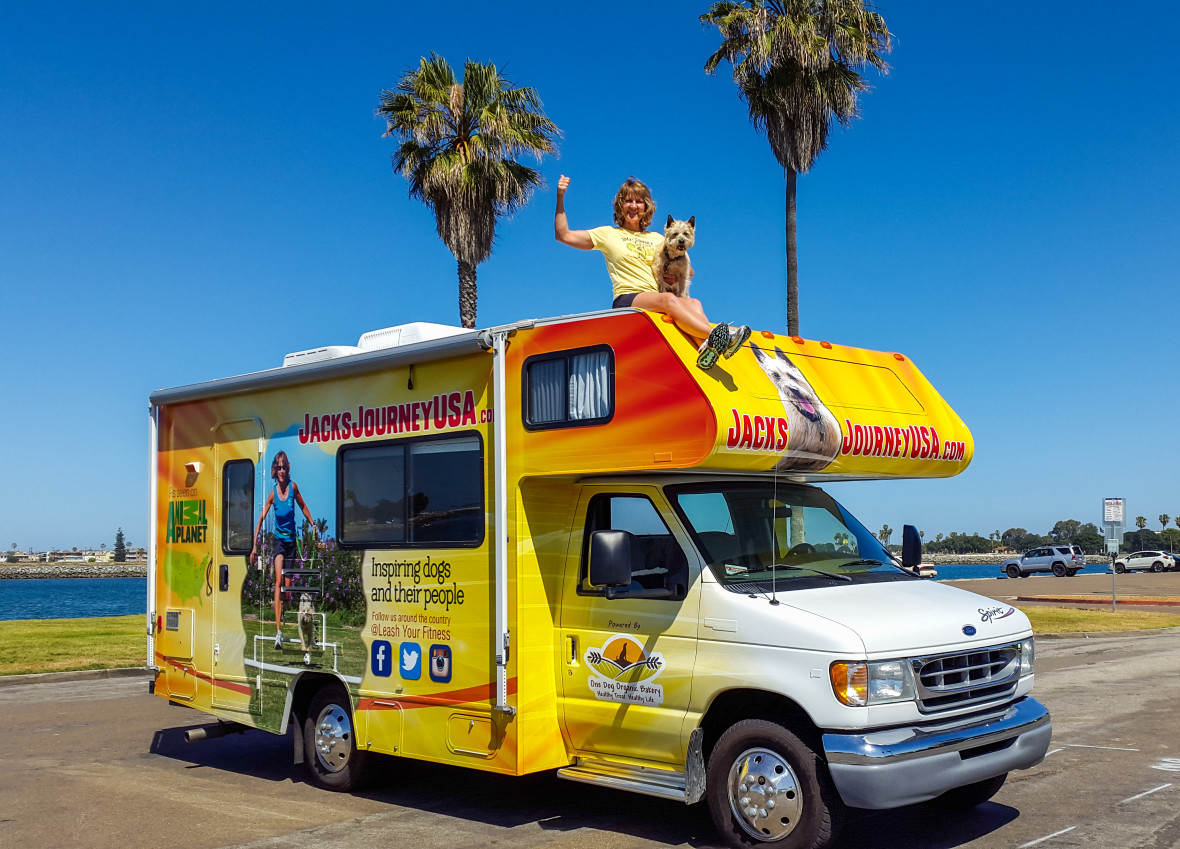 Mommy and I do everything together and we want to inspire others to do fun things with their dog.  What started with a dream, an idea or whatever you want to call it,  is happening because mommy gets these crazy ideas when she is on the trail and she just GOES WITH THEM! She LOVES trying new things and seeing what works! Good thing or Leash Your Fitness would never be a business that helps so many!
Why shouldn't you follow your dreams?  What are you waiting for?  I turned 10 this year and I won't be able to keep up with mommy for much longer and although this makes her very sad, it is reality so she wants to enjoy every minute she can with me! Maybe after 10 weeks in a RV in the rain, wind, sun and lots of water, she will change her mind but for now, we are super excited!
What is on YOUR bucket list?  What can you schedule RIGHT NOW that will inspire you to get fit, stay healthy and look forward to doing!  Life is too short to spend it watching the Kardashians!  Live your own dreams and there is no better time than the "present" because life is a gift. Question for you, are you living in "comfort" or with "courage"?  Here is a GREAT short video that will help you to decide.
SHARE with us what you are going to do to live with COURAGE in the comments below!  We would LOVE to hear about it.
In the meantime, if you want to follow us on our 10 week journey around our beautiful country, please subscribe to our blog on the right of this post or on the red bar below.  You will get our posts delivered to your inbox so you don't miss out on the fun! (we post a lot on our LYF Facebook page too)
You can see our itinerary HERE, more classes are being added in the North East so check back! So now it is your turn, what are YOU going to check off your bucket list?
Watch what happens NEXT!! We are on the News, one week before our departure date!!
Read our next update HERE. 
You can now purchase Jack's Journey USA the book on Amazon!  The book is filled with stories of how Jack inspired Dawn to not only start a fitness business but to travel around the country.  It is a super fun and easy read with each chapter a new state.