I can not believe that we have been hiking all over San Diego for 12 years and we have never been to Kitchen Creek Falls. It is probably because it was dried up for many years. All of the rain has been awesome for the San Diego hikes. They are like new hikes! Kitchen Creek Falls is off of the Pacific Crest Trail (PCT) and you have to know about the secret trail or you will miss it!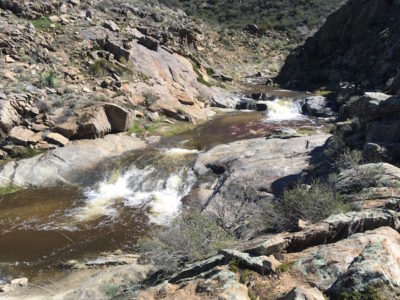 We started out on Old Highway 80 near Boulder Oaks Campground. We have been hiking sections of the PCT for many years. Mommy and I already hiked from Lake Morena to this spot so we knew all about the location.
The trail was across the road and was pretty easy. It went along the river and then started going up the hill. It leveled out in spots and we had to go through a gate but it was very well travelled, after all, it is the PCT!
It is amazing how close you are to Interstate 8!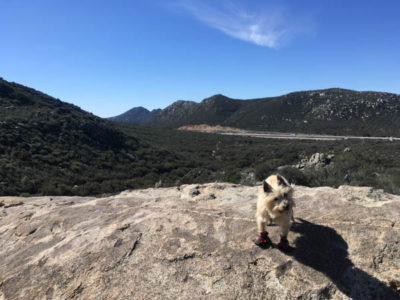 The trail kept going up and up and up. Can you see the trail in the background….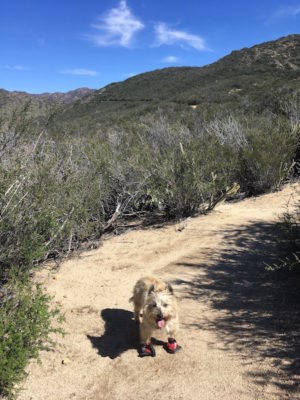 We met two very nice ladies that gave us the scoop about the trail. They told us to turn left at the PCT sign at approximately 2.1 miles. We did that and ended up on a not so well traveled trail. At one point it came to a T and we went left which took us down a very steep and rocky trail to the falls.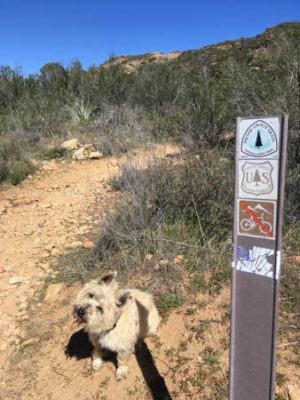 The falls were crazy strong! There was no way that I could swim here! What the heck? I would go flying down the river! Plus, it was CRAZY windy! Mommy almost blew over. Can you see my hair blowing in the photo?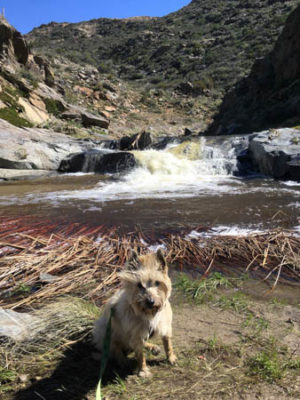 We hiked back up the rocks and then we found where the river continued. It looked a little calmer down there so we found a trail and off we went. Down the very steep trail to the river!
It was awesome! A little less windy and a little calmer. Mommy let me go in with the leash on. The water was cold but I didn't care.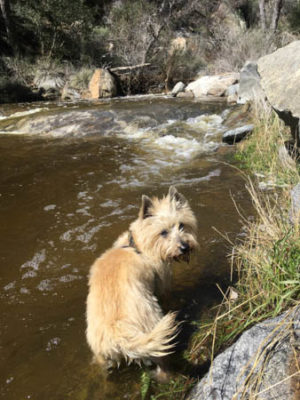 We hung out and climbed on a bunch of rocks and checked out all of the water falls. There were lots of them! The rocks were very slippery but don't worry, we were careful.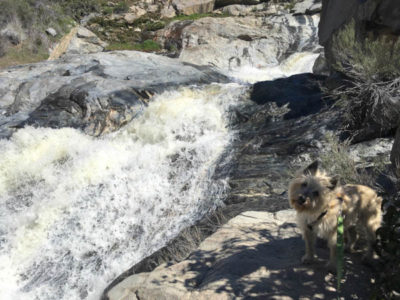 We saw the ladies way up at the top watching us. When we saw them later they said they were up there drinking wine! Can you believe that? I know a lot of gals that would like to hike with them! We climbed back up the steep grade. It was fun! I love to climb on rocks!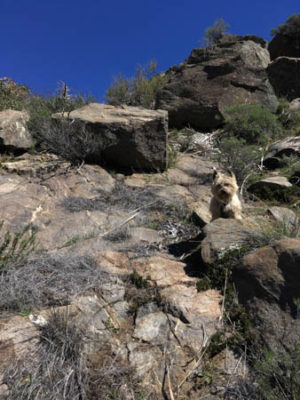 We made our way back to the trail and instead of turning back, we continued on the PCT north to see where we would end up. We hiked a little over another mile and ended up seeing the river again!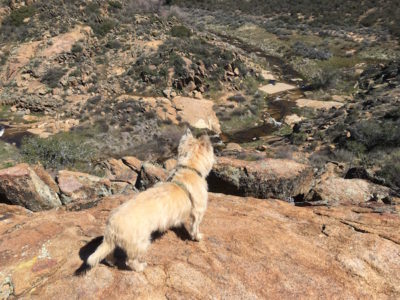 So down we went AGAIN so that I could swim. I know, I am so spoiled! The water was not very deep so I could touch. It was so fun. Mommy threw sticks in and I caught them before the current did!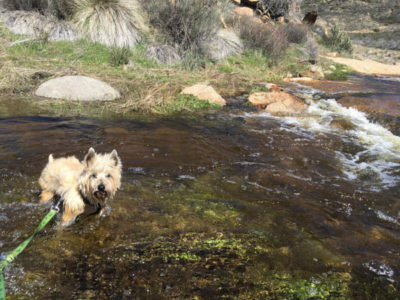 We hiked back up on to the trail and we could see Kitchen Creek Road which was cool because we already hiked from Penny Pines to Kitchen Creek Road. We have the entire southern section of the PCT covered now!
We headed back down the trail and ran into our new friends one more time. They said that they have been hiking here for years and this is the most water that they have seen in a very long time. They were also wondering how me and mommy got down to the river! They couldn't believe we went down the steep trail. They don't know us very well!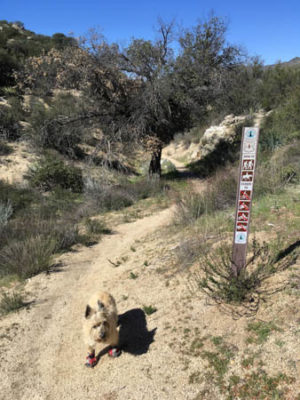 By the end of the day, we hiked 8 miles. I got to go in the water 4 times and we didn't get blown away. So we call that an EPIC day!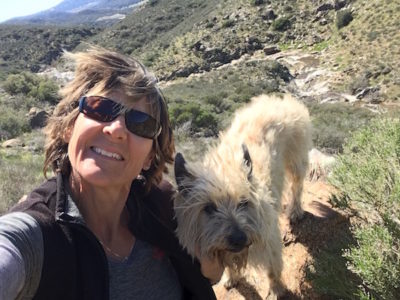 Hope you can check it out sometime! If you do, PLEASE do NOT take your dog there from May until September. It gets VERY hot out there. There is not much shade and the water will dry up toward the end of the summer anyhow. Stick to hiking with your dog in the cool winter months PLEASE!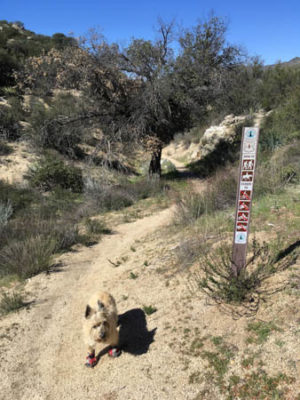 Thanks for reading! We hope that we see you and your pup soon!