250 dogs were needed to break the Guinness Book of  World Record for the largest Dog Yoga Class and WE DID IT with 265 dogs!!   All of the paperwork must be submitted before it is official  but in our eyes, we proved what we set out to prove.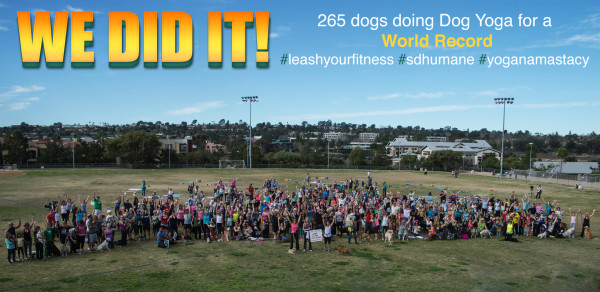 Dog Yoga is not about the dogs doing down dog, warrior pose or headstands, it is about a way to bond with your dog.  Your dog reads your energy, so if you are excited, your dog will be excited, if you are calm, your dog will be calm.  Leash Your Fitness proved that by having 265 dogs in one fenced in field and it was as quiet as a Sunday in church!  No barking, no fighting, no playing and no socializing. We have been teaching Dog Yoga for 6 years now, we have a system to do it correctly so that the people get a good workout and the dogs stay calm. It is not play time, it is a Yoga Class.  We have seen other Dog Yoga classes that were a little chaotic and we wanted to prove that it can be done in a super large class and why not set a World Record at the same time!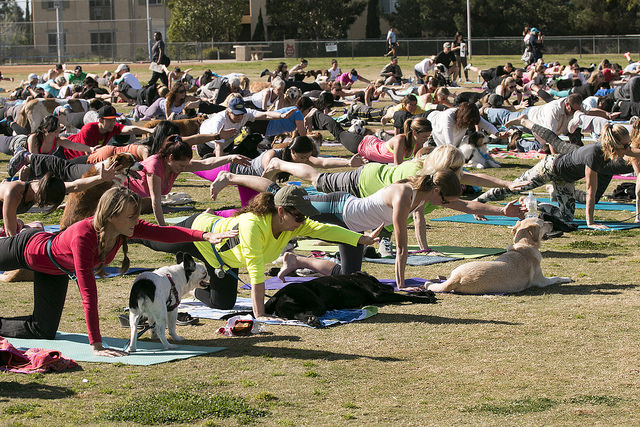 Because the class was under the Guinness rules, there were a ton of technicalities that had to be adhered to.  A few of them were: the field had to be completely fenced in with all entrances video taped with a timer timing the entire class, one dog per person (only the dogs counted in the final count), the class had to be 30 minutes long and the entire class had to be set to music and filmed, every 50 dogs had to be in sections that were well marked with a steward making sure the people and the dogs were doing the class or they had to be asked to leave, and the class had to start and end with a  loud noise.   Because there were many people that showed up after the official start time and there were many in attendance without dogs, we are HOPING that we still get the title.  We definitely had enough dogs, it is just if we can prove that to Guinness! We will find out in 4 – 6 weeks after all of the paperwork, videos, photos and proof is sent in.
This idea came to me one day while running (that is when I come up with most of my ideas!).  I scheduled it for November and THEN I got the rules from Guinness!  There was no way I could pull this off myself with so many regulations so I postponed it.  In December, the Humane Society contacted me and wanted to "put on a large dog fitness event that would draw a lot of attention"  –PERFECT!!  So a partnership was formed! This project was a lot of work and it took an army to pull it off. Leash Your Fitness developed the "plan" but the San Diego Humane Society was an enormous help in getting the PR, volunteers and many other things and therefore all profits went to them. We raised $2,000. at the event!  Anyone that was there knows that I was a little stressed and not in the calming yoga spirit because of all of the "rules" that I was trying to abide by so a very special THANKS to Stacy McCarthy.  She kept everyone calm and quiet during the long wait for enough people to show up for the record to be met! It was amazing to everyone that was there how quiet the field was during the meditative waiting period and the entire event for that matter!  It was a hot day so I really appreciated everyone that came early and your patience in the long wait in the heat.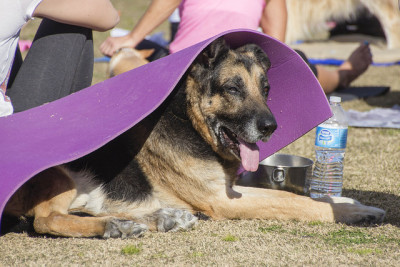 After the initial OM, the class was led in a meditative walk around the field with standing yoga poses along the way.  The dogs were asked to sit during the poses. One of the "rules" was that the dogs needed to exercise during class. Walking and dog obedience drills are great exercise for dogs!  For many dogs, staying in a "down" or a "sit"  is harder than running a mile! After the 20 minute yoga walk, everyone returned quietly to their mats for the mat portion of class. Of course down dog was part of that! We even captured a few REAL downdogs!  Class ended with everyone giving their dog a special doggy massage and lots of love.   It was well deserved after how amazing they did in class!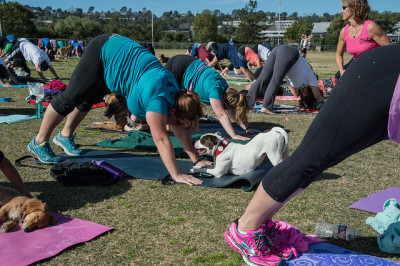 Dale Porter of Killer Image did a great job of video taping the event for Guinness including the video at the entrance and the cool aerial shots from his drone!  Casey Dean and Caroline Fenton did a really cool job of capturing the dogs and their owners mood for the morning.  I have never seen so many smiling dogs!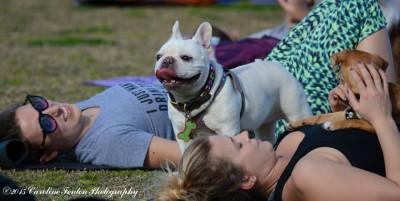 Everyone that attended received a souvenir label compliments of Clairemont Signs and Paw Pleasers was on hand with doggy ice cream for all of the dogs with a portion of their sales going to the Humane Society.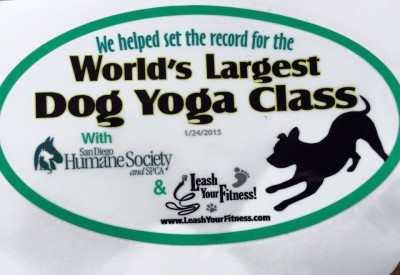 The day would not have been successful without our awesome DJ, Steve Eicher of Unique Mobile Sounds. He did a fantastic job of playing the correct "mood" music and helping with the mics so that the crowd could hear us teach the class in such a large field.  We would HIGHLY recommend his service for any special event that you have coming up! We also want to thank all of the volunteers that helped with the event and the LYF instructors,  Naomi and Crystal!  They were all a HUGE help filling in all of the gaps!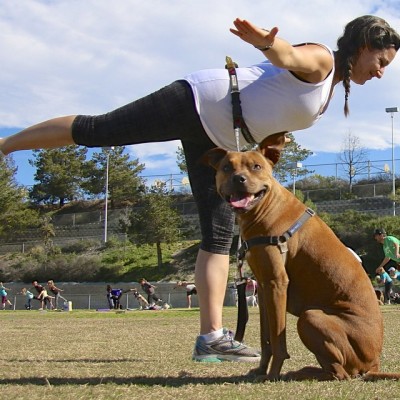 You can now say that you were at the largest Dog Yoga class in History and your dog is a Dogi!
We hope to see you in more of our Dog Yoga and other  Leash Your Fitness Classes.  We believe ALL DOGS need both mental and physical exercise and why not do it together while having a great time!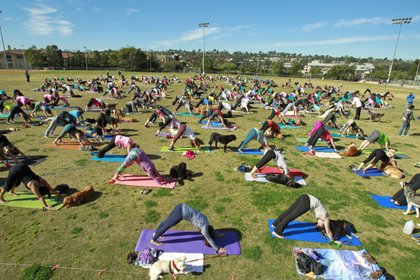 THANKS FOR MAKING HISTORY WITH US!!! 
The event aired on  4 news stations and the front page of the local section of the UT!  Here are just a few:
Union Tribune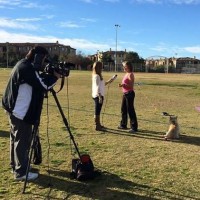 Check out a few of the photos here & feel free to share yours with us on our Leash Your Fitness Facebook page…..