Welcome to the Dog Yoga Teaching program! As you probably know, Leash Your Fitness set out to prove to the world that we know how to teach a Dog Yoga Class by setting a World Record and having 265 dogs in one class. There was no talking, no treats, no socializing, no fighting, no barking and no NOISE!! Four media channels and two newspapers were present reporting on the class and nobody could believe how well everything went!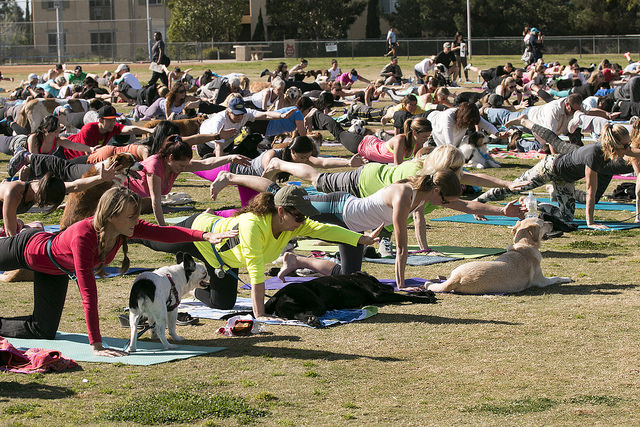 We KNOW how to teach Dog Yoga and we want to help you to teach a popular and successful class! Follow along on the video's below and read the attached PDF. Everything that you need to know to create a great class is here!
As a special bonus, we have included a waiver that can be used by adding your company information (saving you thousands in attorney fees) and a sample press release to give you an idea on what you can send to your local media.
We recommend having a fitness professional or yoga teacher instruct the class for safety and insurance reasons. It never hurts to have a dog trainer present during the class or at least someone who knows how too handle a variety of different dog personalities. Although, if you follow the few rules of teaching, then the dogs should all be on their best behavior.
*Once you click the play button, it may take a few moments for the video to load before playing & the PDF may take a few moments to load, the first step in Yoga is patience!
Video: Dog Yoga Webinar
Video: Yoga Mat
Video: Yoga Standing
Forms
Thank you so much for purchasing the program!
Please let us know how your Dog Yoga classes are going!
Remember to be patient, it takes a while to get the word out about anything new in your community! Don't give up! They will be a success!!
Save
Save