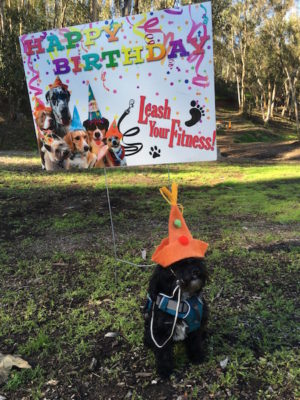 Thank you to Ernie for sharing his yummy pupcakes with us and for celebrating his 5th birthday in our Leash Your Fitness run class!
YES! At under 5 lbs, this little guy runs 5k's with his mommy!! Little dogs rock!!
Ernie's Birthday Pupcakes
For muffins:
1 cup Marvel (or any THK recipe)
1/3 cup coconut flour
2 eggs (or ½ cup unsweetened applesauce)
1 1/3 cup warm water
12 oz ground turkey (or desired protein)
For frosting:
1/4 cup plain yogurt
1/4 cup cream cheese
2 tablespoons peanut butter
12 Nuzzles (or desired treat)
Directions:
1. Preheat the oven to 375.
2. Place paper liners in a 12-cup standard muffin pan. (skip this step if using a silicone pan)
3. In a large bowl, hydrate the Marvel with the warm water. Add coconut flour, eggs and ground turkey. Gently stir until thoroughly combined.
4. Divide the mixture among the paper liners. Bake for 40 minutes or until the muffins are crispy on top and a knife can slide out clean. Cool completely.
5. While the muffins are in the oven, combine yogurt, cream cheese and peanut butter in a bowl and mix with a hand or kitchen mixer until combined. Keep in the refrigerator until muffins are cooled.
6. When the muffins are cooled, frost the muffins and top each with a single Nuzzle.
Note:
You can use any Honest Kitchen diet in this recipe but keep in mind that different diets hydrate to different thickness, so feel free to adjust the water amount as needed. The batter consistency should be thicker than cake mix, but softer than cookie dough.