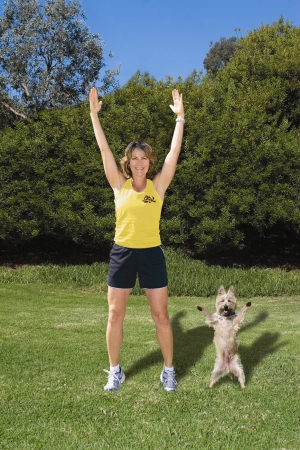 Dawn's personal workout routine as well as her personal training business model completely changed when she got her Cairn terrier, Jack, in 2005.  She took everything outside because she always felt bad leaving Jack behind when he liked to work out too! She hasn't been back to the gym since.
Incorporating balls, bands, hand weights, playground equipment, benches and nature—she was able to get a great workout and breathe fresh air at the same time. Jack became part of her fitness routine and they both had fun and got a great workout!  Your dog just wants to be with you, no dog wants to sit home alone while you are out having fun!
Dawn began sharing this type of workout with her clients and they loved it.  So she decided to start the first fitness program in San Diego that encompasses both you and your dog in a circuit style workout that will train cardio, strength, balance, yoga and dog obedience all in an hour workout.
This quickly expanded into other forms of exercise with your dog. Now, Leash Your Fitness is the ONLY fitness company in the country that incorporates:  hiking, surfing, kayaking, camping, yoga, trail running, upper & lower body classes & our original boot camp classes ALL WITH YOUR DOG!
Any dog trainer will tell you that your dog will behave much better when he is mentally stimulated and exercised until he is tired.  The dog park and/or a daily walk is fine, but to really tire your dog you need to mentally AND physically tire him.
If you want results for you AND your dog – come try one of our fitness classes today!
Leash Your Fitness Vision
People and their furry friends working together doing fun, healthy, fitness-related activities.
Mission Statement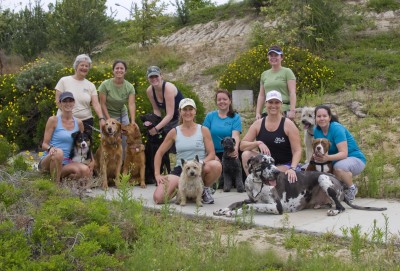 Leash Your Fitness is a team of professional fitness and training enthusiasts whose goals are to to help you and your dog step outside of the traditional "dog walking" mentality and do other fun and fitness related activities together. We are here to create a safe and fun environment for you and your dog. Our family includes people of all ages, fitness levels and professions that have one thing in common—they love their dog and want to spend time with their furry friend. We believe in bonding with our dogs and learning from them. We don't discriminate on any dog breeds, colors, sizes or personalities. Our goals are to help you realize how smart your dog can be if you spend quality time with him/her and to help you reach your fitness goals by including all aspects of fitness into our program. Our approach is to introduce you to a variety of events and classes and surround yourself with positive and supportive people so that you are having so much fun that you don't even realize that you are working out!